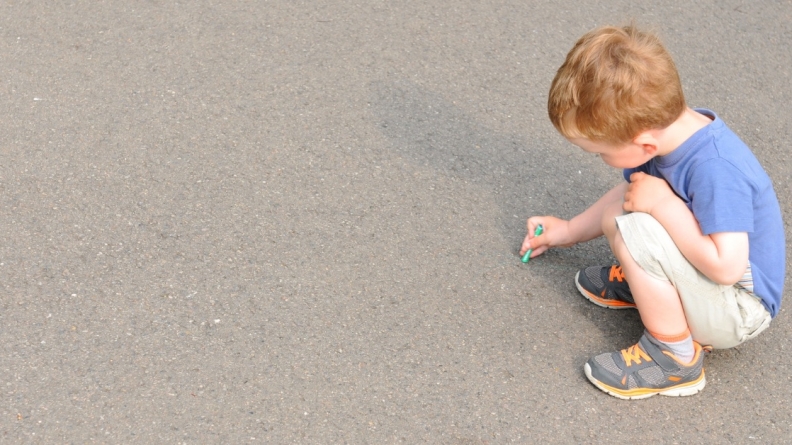 Milestones: Meet Noah, Our 4-Year-Old Client Who's Learning to Communicate Thanks to ABA
PLEASE NOTE: Names in this article have been changed to protect the identity of the client and his guardian.
When Noah first came to Swank Early Skills Development, he had recently been diagnosed with autism—a diagnosis that had come years after Noah's doctors had told his guardian, Sherry, that he didn't have autism.
Still, Sherry knew something wasn't right.
Because Noah went years without a diagnosis, he wasn't working with his guardians or doctors on reaching developmental milestone goals. When the diagnosis did finally come in March of 2019, Sherry quickly enrolled Noah in our Applied Behavioral Analysis (ABA) program, and the progress she noticed was almost immediate.
Noah Before ABA Therapy
Noah's developmental delays first presented themselves as fine motor skills challenges before he turned two years old. Sherry tried in-home fine motor therapies to help him catch up. In addition to physical therapy, she also started him in an IU13 education program for preschool intervention services.
Despite these group services, Noah still struggled to communicate and his communication delays became more apparent. He would label – he knew every type of dinosaur there was – but he wouldn't ask for things or speak with his family. He wasn't interested in playing by himself or with anyone else.
This later led to behavior issues and Noah started to have major mood swings. It reached a point where Sherry couldn't leave his side. He would scream if she left the room, let alone the house, even if he were with other family members.
Everything Changed for Noah When He Began One-on-One Intensive ABA Intervention
Noah's doctor believed that ABA treatment held promise for Noah and recommended that Sherry connect with us. She contacted us and immediately brought Noah in to discuss how ABA could support his development. Right away, she noticed a difference.
"When I brought Noah in for his first visit to Swank, I was able to leave the room," she said. "It was the first time I left his side in years without him screaming. That's when I knew we were in the right place."
Noah came to the center five days a week for three hours of direct, one on one ABA intervention. We worked with him to reach several communication milestones that he hadn't developed prior to his diagnosis.
"Before Swank, Noah didn't talk to us very much," Sherry said. "Now he's communicating better and talking more. He wants to play and asks other people to play. He's a totally different child."
As a Guardian, Sherry Also Needed Support
Like a lot of the parents and guardians of children struggling to meet milestones – whether that child has an autism diagnosis or not – Sherry also needed support. She wasn't always sure what to do for Noah or how to work with him. Supporting him was overwhelming.
"It was difficult trying to work with Noah on my own before Swank," she said. "I didn't know how to give him what he needed. Now, if I have questions or need help with something, I can call his behavior analyst and they tell me what to do at home. They've given me tools to work with that have helped. Everyone is understanding. It's been a completely different experience with Swank than with other in-home services."
A Bright Future Ahead
In his first year of intense ABA treatment, Noah reached many of his milestones and is working on catching up on the developmental milestones that he had not yet reached on time. Seemingly simple things, like taking Noah out of the house and asking him what he needs, are much more manageable for Sherry.
"In just a year, Noah is behaving and communicating more than ever before," Sherry said. "I never thought that would happen. Before, I worried that he'd never be able to be on his own and be self-sufficient. Now, I think he may just surprise everybody."
Noah is one of many Swank kids who have seen the incredible benefits of ABA. We welcome you to explore the benefits that a center-based ABA intervention approach can bring to your child's development. Contact us today.